SOUTHERN LEAGUE DIVISION ONE CENTRAL
AFC Dunstable         2

          

St Neots

Town        2
For the third time in four games St Neots were in front going into the final stages of a match before finishing up either losing or dropping two points.  This was their fourth draw in just six league outings this season and the consensus of their fans is 'we must learn how to close matches down when we are in front!'
Having been critical of the outcome, it must also be said that in this match they did everything except return home with three points.   They dominated possession throughout and served up some delightfully attractive football but failed to convert their superiority into goals, as well as gifting their opponents two goals in less that half a dozen openings they had created in a one-sided contest.   Their domination was centred around the performance of their midfield trio of players, forceful skipper Lee Watkins, tireless Ben Worman and the inspirational Lewis Simper returning for a second spell on loan from Cambridge United.   After suffering defeat in their two previous encounters with Dunstable this was a well-deserved draw that should have resulted in all three points.   The team changes saw goalkeeper Louis Chadwick return after injury, and player/manager Barry Corr make a significant return to the side at the expense of Tom Dickens.   After a three-match absence Leon Lobjoit returned to lead the attack at the expense of Ryan Robbins, and Simper was preferred to Aaron Smith.
Conditions were terrible with rain heralding the start of the match.   Playing with the swirling wind at their backs in the first half, St Neots were guilty of overhitting their forward passes and crosses yet still managed to dominate possession,   An early Leon Lobjoit cross deflected from the head of a defender to be blocked on the goal line, and the same visiting player went around the home goalkeeper but ran out of pitch to benefit.   In the next attack after 19 minutes St Neots caused panic in the home penalty area only to see two close range efforts following a corner, blocked by desperate defending.   A clever set piece short corner saw Barry Corr heads narrowly wide, and with 30 mins gone the home side had not been able to test Louis Chadwick in the St Neots goal.   As half time approached, they did get further forward, and Bernard Christie beat an offside trap to advance on goal, but the speedy Liam Bennett got across to smother his effort at the expense of a corner.   However, from that corner seven minutes before the break, the ball was pulled back to former St Neots full back Brett Longden and his cross found the unmarked Sam McClelland whose header put Dunstable ahead.   There was still time before half time for defender Sam Goode to have two attempts to find an equaliser – the first a header well saved from a Ben Worman cross, and the second from Jake Battersby assist, a rising shot over the crossbar.
Playing into the breeze in the second half, St Neots looked more in control as they set about retrieving the deficit.   After 50 minutes from a Battersby corner, Simper saw his close range effort blocked on the goal line and four minutes later, in the same attack, Lobjoit brought a great save from home custodian Dan Green and then Goode had a net bound volley blocked by a defender.   A dipping shot from Lobjoit was acrobatically pushed over the bar by the keeper, and another visiting effort was headed off the line.   However, almost inevitably, the pressure brought the reward St Neots deserved with a well-taken equaliser from debut boy Lewis Simper who stole in to convert an accurate Liam Bennett cross after 65 minutes and six minutes later St Neots were deservedly ahead with the goal of the match.   Corr won the ball on the edge of his own area and launched a sixty yards cross to the feet of Battersby who skipped past his marker and crossed to find Leon Lobjoit his seventh goal of the season.   At that point St Neots should have gone onto win but nine minutes from time they failed to clear a Dylan Baker corner and defender Sam McClelland joyfully claimed his second goal of the match to steal a share of the points.   In the remaining time both Simper and Corr had shots saved by man-of-the match home goalkeeper Dan Green.
Click Here For David Richardson's Photo Gallery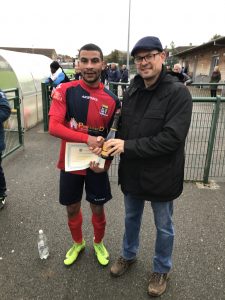 Today's Saints Supporters' Group Man of the Match
– Leon Lobjoit
St Neots Town:  Chadwick, Bennett, Battersby, Wilson-Braithwaite, Goode, Corr, Watkins,  Simper, Amu, Lobjoit, Worman
Subs:  Robbins (for Amu 86 mins), Dickens and Smith.
Cards:  Corr  (Y – 39 mins), Simper (Y – 63 mins)
Goals:  Lewis Simper (65 mins), Leon Lobjoit (71 mins)
AFC Dunstable:  Green, Longden, Gedron, Frater, McClelland, Hanks, Griffin. Elliot, Christie, Ann, Baker
Subs:  Turner (for Elliot 31 mins), Brooks (for Longden 49 mins), Newman (for Hanks 72 mins)
Cards:  McNish (Y – 27 mins)
Goals:  McClelland 2 (38 & 81 mins)
Referee:  Harry Tarrant (Towcester)
Attendance:       169
John Walker