F A CUP EXTRA – PRELIMINARY ROUND
Pinchbeck United        0

         

 St Neots Town        4
St Neots heralded the new season with a very impressive victory in the Extra-Preliminary Round of the FA Cup to earn a sponsorship reward and earn a visit to Ryman Leaguers Soham Town in the next round.  Their hosts were level five Pinchbeck United from the United Counties League who are ground sharing at Spalding United.   Last season the hosts only avoided relegation due to the COVID lockdown, but they had boosted their squad for the new season.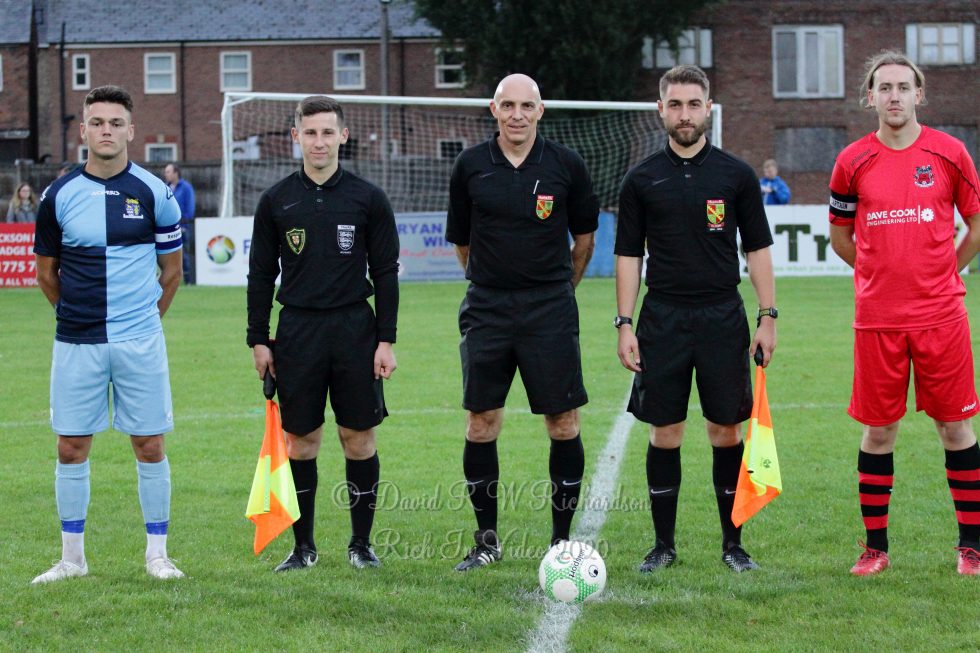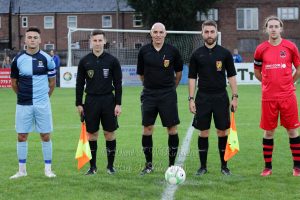 St Neots fielded a new look line up from that last featured in the FA Cup with only skipper Lee Watkins having played in their line-up in the defeat by Biggleswade Town last season.   St Neots were missing a couple of players with striker Ryan Robbins on a suspension carried over from last season, and Dequaine Wilson-Braithwaite on an early season injury list.   It was the first ever meeting of the two sides.   The victory was as comprehensive as the final score line suggests and will have been a good confidence builder for the visit to Soham that precedes the start of the league season.
The Saints took little time to get into a rhythm as they could have scored twice in the opening five minutes.   First Jake Battersby burst through on the left to force a smart save by home keeper Ben Martin, and then Sam Gomarsall slid in to only just avoid turning a Liam Bennett shot into an unguarded net. Battersby then had a shot deflected for a corner from which Tom Dickens headed narrowly over the crossbar.
However, the pressure was soon to pay off and after 13 minutes Adrian O'Hara (pictured left) climbed high above the defence to head home a Battersby corner to put St Neots ahead.
Two minutes later the score was doubled as, from a Lee Watkins free kick, it was Tom Dickens (pictured right) who headed past the keeper. Little was seen of the home attack although goalkeeper Louis Chadwick had to leave his line smartly to cut out their first meaningful attack after twenty minutes.   The home side were guilty of some over-physical challenges earning two first half bookings but St Neots persevered and after 26 minutes Leon Lobjoit netted but was ruled fractionally offside.
However, he was not in the mood to be denied and after 36 minutes, after good approach work by Bennett, Leon Lobjoit (No 10 left) twisted in the area to produce a delightful chip over the keeper for a 3-0 half time lead.
It was Lobjoit again catching the eye immediately after the restart bringing the save of the match from Martin at the expense of a corner and in the next attack the St Neots striker beat Martin only to see his shot rebound from the cross bar.  Sam Gomarsall who had gone close in the first half saw his 56th minute shot pass just the wrong side of a post and then St Neots Manager Barry Corr decided to ring the changes bringing on substitutes Ingi Hasani and Aaron Smith.
That did nothing to upset the St Neots rhythm and after 61 minutes Leon Lobjoit (right) again showed his predatory skills latching on to a Gomarsall corner for his second and St Neots' fourth goal.
Pinchbeck seemed better organised in defence and although St Neots continued to dominate chances were harder to create.  Martin had to make another top drawer save to deny Gomersall the goal he deserved, and Bennett will have been disappointed only to shoot high over the bar when well placed.  It was late in the game when Richard Krashigi broke clear of the defence but St Neots keeper Louis Chadwick, for so long a spectator, left his line to smother the ball at the forward's feet.   The final two chances came when Martin produced another good save to deny Battersby and substitute Smith joined the attack to shoot over the bar after a flowing move.
Photos courtesy of David RW Richardson  @RichInVideo
St Neots Town:  Chadwick, Bennett, Dickens, O'Hara, Goode, Dallas, Sutton, Watkins, Gomersall, Lobjoit, Battersby
Subs:  Hasani (for Goode 67 mins), Smith (for Sutton 67 mins), Cowling (for O'Hara 76 mins) and Martin.
Cards:  none
Goals:  Lobjoit 2 (36 & 61 mins), O'Hara (13 mins), Dickens (15 mins)
Pinchbeck United:  Martin, Cottingham, Kacirek, Dunn, Worthington, Eyes, Barber, Neves, Britton, Krashigi, Daws
Subs:  Kingston (for Barber 57 mins), Abayomi (for Cottingham 57 mins), Onyon (for Britton 67 mins), Ashall, Sebtane and Shores.
Cards:  Neves (Y – 18 mins), Barber (Y – 24 mins)
Goals:  none
Referee:  Sean Gregory (Peterborough)
Attendance:       98
John Walker