SOUTHERN LEAGUE DIVISION ONE CENTRAL
St Neots

Town        4            

Biggleswade FC        1
St Neots produced their best performance of the season – topping even their 8-0 drubbing of  Didcot Town at the Premier Plus Stadium earlier in the season – to send Biggleswade home after their first ever defeat at the hands of the Saints.  It could have been even a much heavier defeat for the Waders but for the inspired individual performance of their man-of-the-match goalkeeper Tyler Josephs.   Time and again he repelled the best efforts of a St Neots team rampant at times in front of their best home crowd (350) for a very long time.  
He produced six excellent first half saves, and a further three after the break and must feel justifiably aggrieved that he was beaten four times as well as being saved by the woodwork.   St Neots produced some real impressive flowing football and never really looked in trouble despite conceding a consolation goal to their visitors who never gave up trying as the tally against them mounted.  Manager Barry Corr, still perhaps searching for the best combination of his players, opted to leave himself on the bench bringing back Tom Dickens in defence and just before the final whistle, there was a cameo substitute appearance for Ex  Cambridge United's former England U21 player, now 39 years old, Luke Chadwick, father of the team goalkeeper Louis.   The three points lifted St Neots, now the top scorers in the Division,  to eighth in the league table – their highest position since their relegation to Step Four.
From the start St Neots dominated play and created openings.   Down the right flank Liam Bennett cut past his marker time and time again to sent over inviting crosses for the front players to attack.   Twice Leon Lobjoit was off target after he had picked him out and from midfield Ben Worman was also a constant threat to the visiting defence.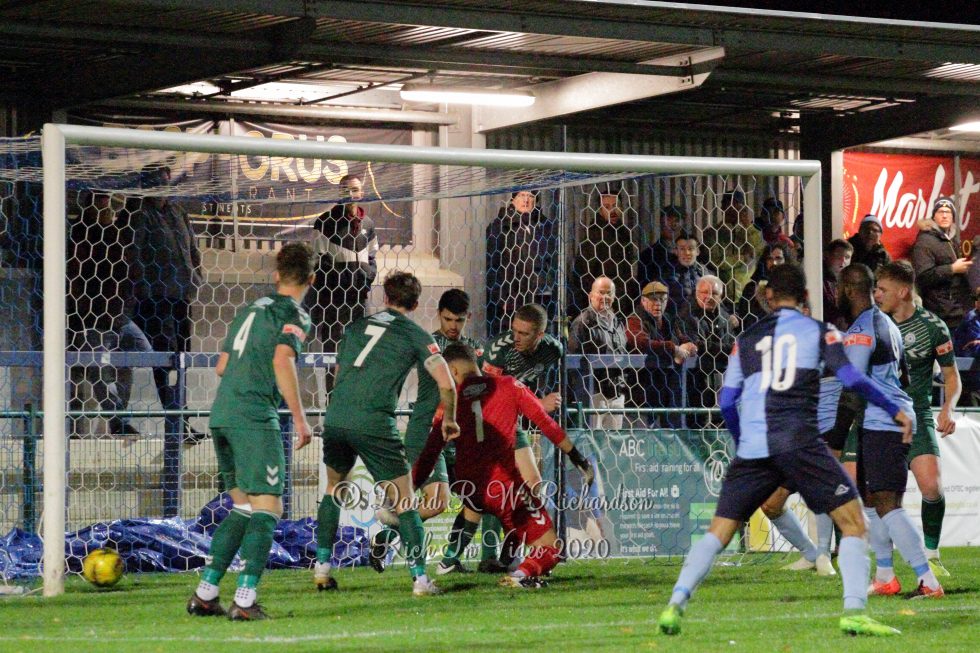 He combined with  Lobjoit to bring a significant save from Josephs and when after 15 minutes the keeper produced another outstanding save at the expense of a corner, he was punished when from Lee Watkins cross, Tom Dickens claimed his first league goal of the campaign from close range, to give St Neots a deserved lead.   On the break the visitors looked lively and there first effort on goal by Kian Coles after 18 minutes saw Louis Chadwick in action for the first time as he pushed the ball for a corner.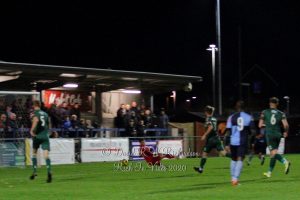 Two saves in as many minutes by Josephs then denied Lobjoit and Arel Amu from adding to the score line but St Nots were not to be denied for much longer because after 34 minutes a flash of individual brilliance saw Ben Worman beat three defenders at speed before placing the ball beyond the despairing dive of Josephs to make it 2-0. Before half time there was still enough time for Lewis Simper to twice be denied by the keeper as he kept out a direct free kick and a delicate lob.
Frustration for St Neots leading scorer Lobjoit intensified soon after the break when the inspired goalkeeper produced a good low save to deny the striker, but he was fortunate when a second effort from the same player beat him but rebounded from the bar.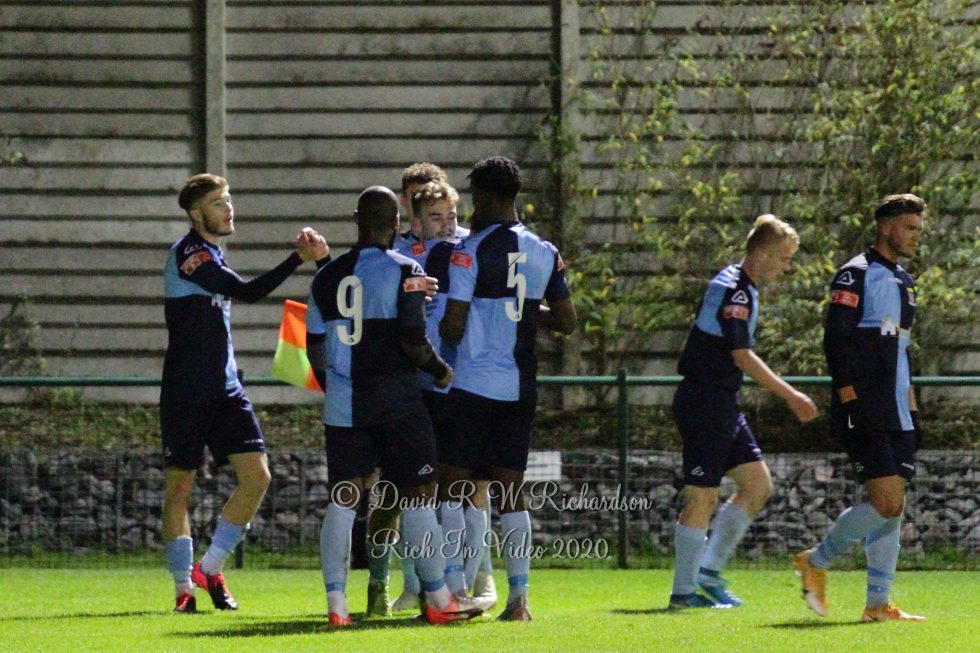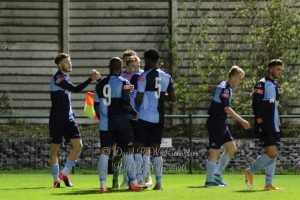 However, Josephs' one error cost his side after 56 minutes when he dropped a Bennett cross to gift Ben Worman his second goal of the match.   Despite being 3-0 down Biggleswade defiantly kept trying to breach the home defence and after 61 minutes they were rewarded when a Drakulic free kick was not cleared and Tom Coles stabbed home from close range,   However, this was to prove nothing other than a consolation goal because eight minutes later from another Bennett cross to the far post, Jake Battersby rapped in a low shot that beat the keeper at his near post to reinstate St Neots three goals' advantage.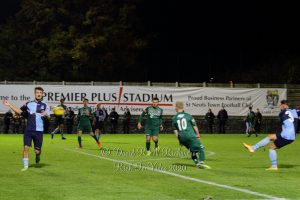 Lobjoit chipped wide with the keeper narrowing his angle and was then booked as his personal frustration showed through.   With three St Neots substitutes introduced in the last fifteen minutes the tempo of the match reduced and although one of the trio of newcomers, Ryan Robbins, tested the under siege goalkeeper, the visitors had the final word as two of their substitutes, Alan Fleming and Ryan Inskip brought saves from Louis Chadwick.   It was good preparation St Neots prior to hosting Northern Premier League visitors Worksop Town in the FA Trophy Third Round Qualifying.
Click here for David Richardson's Match Gallery  
Saints Supporters Group Man of The Match – Lee Watkins
St Neots:  Louis Chadwick, Bennett, Battersby, Goode, Wilson-Braithwaite, Dickens, Watkins,  Simper, Amu, Lobjoit, Worman
Subs:  Gomarsall (for Lobjoit 59 mins), Luke Chadwick (for Watkins 84 mins), Robbins (for Amu 84 mins), Smith and Corr.
Cards:  Lobjoit (Y – 74 mins), Simper (Y – 81 mins)
Goals:  Worman 2 (34 & 56 mins), Dickens (15 mins), Battersby (69 mins)
Biggleswade:  Josephs, Hunt, Simpson, Oswick, Gauge, George, Coles (T), Coles (K), Oyeniran, Drakulic, Bailey
Subs:  Inskip (for Hunt 44 mins), Fleming (for Oyeniran 46 mins), Kettle (for Bailey 57 mins), Ulug, and Northfield.
Cards:  Oswick (Y – 32 mins), Drakulic (Y – 74 mins)
Goals:  Tom Coles (61 mins)
Referee:  Shaun Barry (Northampton)
Attendance:       350
John Walker