FA TROPHY – THIRD ROUND QUALIFYING
St Neots

Town        6

           

Worksop

Town        1
Seven goals and three red cards made this a memorable afternoon both for good and bad.  The focal and almost certainly defining point of the match came at half time as the players left the field.   An altercation involving many of the players resulted in red cards for St Neots defender Dequane Wilson-Braithwaite, Worksop skipper Gavon Allott and goalkeeper Seb Malkowski, and saw the match resume with ten players for the home side and nine for the visitors.   During the match there were a further six cautions issued (two St Neots – four Worksop) so from a disciplinary point of view it was a contest best forgotten.   However, St Neots ruthlessly capitalised on their numerical advantage in the second half, and playing against a replacement player in goal who made several creditable saves, they recorded their biggest ever victory in the competition to reach the First Round Proper for the first time ever.
Manager Barry Corr named an unchanged starting line-up from that which had convincingly beaten Biggleswade FC in midweek, whilst the visitors with only one previous defeat this season looked to be testing opponents.   Under strict COVID arrangements the spectators were segregated and unable to move freely around the ground but there was a good challenging atmosphere with both sets of supporters vocal.
The first half was extremely competitive with the visitors just shading the opening exchanges thanks to their positive approach.   However, St Neots had the first real chance when hesitancy in the visiting defence saw the ball blocked on the line, but Worksop then broke quickly to the other end where Louis Chadwick had to produce a full length save to keep his goal intact.  Leon Lobjoit had a shot on the turn blocked but another quick break from defence brought the opening goal for the visitors, as Michael Dunn moved inside two defenders to beat Louis Chadwick with a low finish.   In reply St Neots were often careless with their passing but were now dominating possession as Ben Worman had a shot pushed for a corner from which defender Sam Goode sent a free header across the face of goal.   When Lobjoit was upended on the edge of the box, Lewis Simper sent his free kick narrowly over the bar and then Jake Battersby had a shot deflected for a corner.   Home pressure deservedly brought an equaliser a minute before the break when LEWIS SIMPER stole in at the far post to convert a curling cross from Lobjoit and in added first half time Goode clashed with Scott Brown and both were booked and this exchange just preceded the half time hiatus.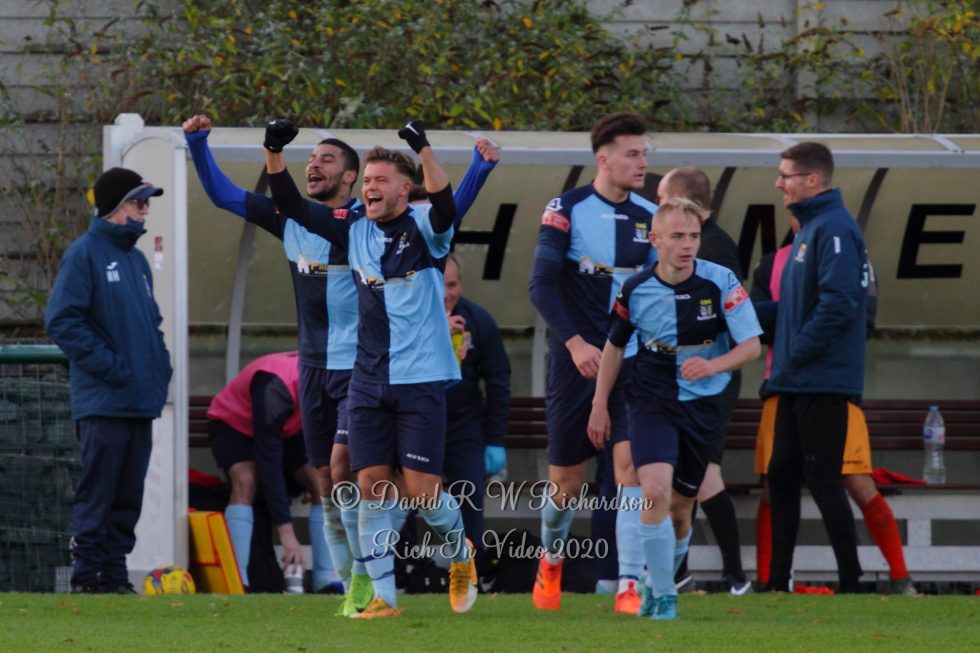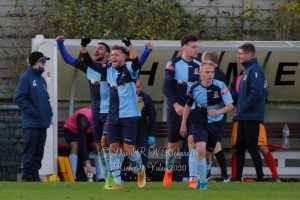 When the game resumed St Neots produced some positive and classy football to take advantage of their extra player. Substitute visiting goalkeeper Kian Johnson made an excellent save from Worman but after 50 minutes he was left helpless by a LEON LOBJOIT chip that crept in under the crossbar to put St Neots in front.   St Neots really took command nine minutes later when the excellent BEN WORMAN let fly from 35 yards to make the score 3-1.   Now Johnson was kept under constant pressure as he made two classy saves to deny Worman and Lobjoit again in successive attacks.  To further boost their superior possession St Neots sent on Ryan Robbins for Amu and he arrived in time to see the impressive BEN WORMAN waltz past two defenders and round the advancing keeper to claim his second goal of the half.  RYAN ROBBINS, on the pitch for less than ten minutes, then joined the party notching goal number five for his side after clever play by Lee Watkins, before Simper was denied a second goal by the Johnson save of the match.   However, it was appropriate that St Neots should round off their victory with a flourish, and this they did eight minutes from time when Simper split the tiring visiting defence to set up LEON LOBJOIT for his eighth goal of the season in just his seventh appearance.
Click Here For David Richardson's Match Photo Gallery
The Saints Supporters' Group Man of the Match – Ben Worman
St Neots Town:  Louis Chadwick, Bennett, Battersby, Goode, Wilson-Braithwaite, Dickens, Watkins,  Simper, Amu, Lobjoit, Worman
Subs:  Robbins (for Amu 67 mins), Smith (for Goode 80 mins), Luke Chadwick (for Worman 87 mins), Corr and Whitehall.
Cards:  Wilson- Braithwaite (RED – 45+3 mins), Goode (Y – 45 mins), Simper (Y – 90+3 mins)
Goals:  Lobjoit 2 (50 & 82 mins), Worman 2 (59 & 71 mins), Simper and Robbins
Worksop Town:  Malkowski, Greenhalgh, Smythe, Brown, Jemson, Picton, Baxendale, Cromack, Allott, Bedford, Dunn
Subs:  Hinsley (for Dunn 28 mins), Kian (for Malkowski 46 mins) Williams (for Bedford 76 mins), Sennet-Neilson, Starcenko, and Betts,
Cards:  Malkowski (RED – 45+3 mins), Allott (RED – 45+3 mins), Bedford (Y – 43 mins), Brown (Y – 45 mins), Cromack (Y – 51 mins), Greenhalgh (Y – 81 mins)
Goals:  Michael Dunn (61 mins)
Referee:  Andrew Hitchcox (Northampton)
Attendance:       371
John Walker