ISUZU FA VASE SECOND ROUND QUALIFYING
ST NEOT

S TOWN           0

          

THETFORD TOWN         0 

                                                                               
(St Neots won 5-3 on pens)
This was St Neots first foray into the FA Vase since 2011 and after an evenly fought goalless 90 minutes, they prevailed to move into the next round of the FA Vase with a perfectly presented penalty shoot-out. Visitors Thetford Town arrived at St Neots with a flawless record away from home this season – five wins in five matches and St Neots knew this would be a stiff test. The match which was largely end-to-end, saw both sides create and miss numerous openings. The visitors shaded possession in the first half whilst St Neots were happy to sit back and soak up the pressure before hitting their visitors on the break, but their second half performance deserved their reward. The fact that home keeper James Goff was deservedly given the man-of-the- match award sums up the visiting side's frustrations but there should also be a special mention for the St Neots defensive wall in front of the keeper that gave nothing away to a lively visiting attack. St Neots had an early problem when Rav Kalek broke down in the pre-match warm-up, so Malaki Black came in at full back. The only other team change saw Tom Rowley included for the cup-tied Jordan Brown.
Thetford created the first opening when after four minutes Adam Laker was given space at the far post, but James Goff parried his close-range shot. The match then settled with Thetford having the greater possession but creating few openings although Cameron King brought one important save from Goff after ten minutes. At the other end Magloire Muyembe revelling in his more forward role saw a net bound effort blocked and from a Sam Johnson cross, James Hatch uncharacteristically stabbed the ball wide. Goff then dived at the feet of Shaun Avis after22 minutes, but then play moved to the other end for Muyembe to dispossess a defender and force a full length save from visiting keeper Tom Smith at the expense of a corner. Laker then sliced through the home defence but shot wide and the first half ended with Tom Rowley shooting wide following a corner.
After the break Goff made a fine save to parry a shot from Callum Olpin and St Neots responded five minutes later when home skipper Kyle Lincoln headed narrowly over the bar from a Johnson corner. The match then took a turn with much of the play in midfield as St Neots began to look more confident and Archie Galley was booked for halting a promising attack by upending Josh Brown. Both sides sent on a substitute with Israel Ajana replacing Tom Rowley on St Neots left flank. As the match moved into the final ten minutes the visitors' final effort from leading scorer King was comfortably saved by Goff and St Neots finished the stronger of the two sides with Ajana twice breaking through the visiting defence but failing to set up a colleague, and he was then cynically brought down and from the free kick Lincoln saw his close-range effort deflected for a corner.
The penalty shoot-out saw St Neots lead the way and they produced five near perfect spot kicks from Josh Brown, Sam Johnson, Magloire Muyembe, Tommy Reynolds, and Mert Apat, whilst Shaun Avis' effort rebounded from a goalpost meaning than St Neots fifth spot kick saw then safely into the next round with a 5-3 aggregate.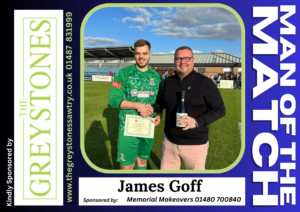 Today's Saints Supporters' Man of the Match – Kindly sponsored by The Greystones Public House, Sawtry – JAMES GOFF
St Neots Town:   Goff, Reynolds, Black, Josh Brown, Apat, Lincoln, Rowley, Dummett, Hatch, Myembe, Johnson
Subs:  Ajana (for Rowley 79 mins), Romero, George, Williams, and Kakek
Cards:  Josh Brown (Y – 80 mins)
Thetford Town:   Smith, Bond, Haylett, Galley, Grove, Money, Laker, King, Gilchrist, Olpin, Avis
Subs:  Diggins (for Grove 55 mins), Fuller, Davies, Wright, and Rodgers.
Cards:  Galley (Y – 76 mins), Olpin (Y – 88 mins)
Attendance: 265
Referee:  Paul Minalache (Corby)
(John Walker)